Summary:
You might regard it as mindless graffiti, but the artistic scrawls of these horny guys serve as their signatures on a sub-culture which few outside it understand. Then again, of course, you might not even notice the "tagging" in question, given that it's up against ten of the biggest, most insatiable cocks in the Czech Republic! Nicolas Cruz, Ennio Guardi and STAXUS exclusive, Jack Cameron, abandon their spray-paints to spend time marking open mouths and spraying raw hairless asses with oodles of pent-up jizz instead.
Description / Review:
Scene.1: Tagging Threesome Results In A Cum-Crazed Spit-Roasting!
The cops view tagging as vandalism, so it's no surprise that those who engage in the "art" spend much of their time avoiding the police. The buzz of avoidance, however, leaves both Andy Nash and Jack Cameron in need of some alternative high, so it's perhaps not surprising that the two lads are soon ripping off each other's clothes and feasting off each other's thick, straining dicks! What they really need, however, is some filthy-minded, cock-crazed bottom to serve as a spit-roast for their mutual satisfaction, which of course explains the enthusiasm with which the lads welcome the sudden interruption of Damian Driek, a fellow tagger whose love for daubing the local vicinity with paint is matched only by his unquenchable lust for hard dick! As such it's no surprise that the lad is soon enjoying the feel of Nash's knob from behind, before straddling Cameron's rampant ass-stretcher and taking his daily quota of exercise in the form of a condom-free bang session! It's enough to make a young man dump his load twice in quick succession – an achievement that almost goes unnoticed by Nash and Cameron, who are too busy rupturing their own nads all over Driek!

Scene.2: Cute Young Tearaway Gets His Pert Little Ass Filled To Perfection!
Sometimes, having been caught red-handed with incriminating evidence, there's little option but to take your punishment like a man – or, as in the case of young Marco Will here, like a total cock-crazed whore! After all, officer Nick Gill's clearly not in the mood to take any messing from the errant tearaway when he confronts the lad with a spent paint can; and before you know it has grabbed the scoundrel's crotch and forced Will down onto his knees. It's the perfect position from which to engage in some hardcore cock-sucking, whilst Gill roughs him up by slapping him around the head. You'd be forgiven for thinking that Will might not be enjoying this little private game, but you'd be wrong. By the time Gill pulls the fellow's pants down, Will's meaty uncut cock is so swollen and engorged that it bounces up into the air as if screaming for attention – which Gill is only too willing to give! Not that the fellow in uniform is going to be distracted for long from taking Will's tight little ass for a spin – an achievement undertaken with indisputable gusto, and one that results in Will's pucker being splattered with a thick stream of hot, creamy, pent-up sperm! Beautiful!

Scene.3: Prison-Bait Is Better Than Masturbate For This Horny Scally!
It's not surprising that a good many taggers end up in prison – criminalised for their association with gang culture and marginalised by much of mainstream society for their penchant for perceived vandalism. One group of folk who do appreciate them, however – at least given the evidence here – are the guys who guard them in their cells, in this instance represented by Nicolas Cruz whose libido has never once given reason to let any of us (or the taggers he oversees) down. And so it proves once again, as Cruz pulls Ali Montero's pants down to the lad's ankles and begins to slurp feverishly away on the young lawbreaker's cock. Any doubt that Montero might not be willing to reciprocate such attention is promptly dismissed when the boys begin to switch positions time and time again, flip-flopping in their lust for dick and each looking every inch the common slut in the process. Nevertheless, prison hierarchy is immediately restored when Cruz mounts his partner from the rear with that beefy, unsheathed rod of his – an act that eventually sees Montero spurting in appreciation, before taking a full-on facial that leaves his cute, hairless chin dripping with lashings of jizz!

Scene.4: Muscle-God Gives Fresh-Faced Fucker A Hard, Spunky Work-Out!

Cast: Ennio Guardi and Keny Austin
Also available: Big Me Up (2 DVD set)
All that "tagging" can leave even the most virile young man drained, as muscular stud, Ennio Guardi, discovers when he encounters Keny Austin fast asleep and appearing every inch as sweet and innocent as it's possible to look. The truth of the matter, of course – as quickly becomes apparent – is that Austin's nowhere near as inexperienced between the sheets as he'd like others to think; and it's no time at all before he's pouncing on Guardi's uncut cock, sucking it into life like the common whore he clearly is. Guardi, for his part, looks as fucking delicious as ever – a light goatee only adding to his masculine dominance – and it's no surprise that Austin is soon overcome with raw desire, mounting the stud's rampant shaft and giving the meaty shaft the kind of ride Guardi is unlikely to forget in a hurry. Cue a fabulous bareback encounter that sees the young bottom fucked in pretty much every position imaginable, Guardi's tanned, toned body contrasting nicely with Austin's lily-white flesh as the two boys bang away like a pair of wild animals. All culminating in a truly fantastic, ball-bustin' cum-shot from Guardi that has to be seen to be believed!

Scene.5: Gorgeous Young Beauties Plough For Hot Jizz Like Wayward Sluts!
Nothing but nothing, it seems, can stop this group of taggers from making their mark on the world – quite literally! – and to celebrate the young horny pairing of Ali Montero and Mike Nio take a break from their artistic expressions to engage in a sensuous session of hardcore pleasure. Both these boys are as lithe and fresh-faced as it's possible to be – but don't let that make you think that they don't know what to do with a thick, throbbing cock when they get their hands (or indeed mouths!) on one. Each of these fellows is a primed dick-whore, who appear to love nothing better than to get down on their knees to take hot cock right to the back of their throats! Montero, in particular, seems especially eager to indulge in his animalistic urges – and who can blame him when presented with the pulsating knob that Nio has throbbing away in his closely shaved crotch ...?! As such it's pretty much no time at all before the young slut is bouncing up and down on Nio's hair-free lap – an act that finally culminates in him taking an ass-load of jizz up the rear! Little wonder that he finds it impossible to refrain from jerking off a thick load in the final moments.
Additional Information
Categories: UK R18 / XXX Gay Adult / Bareback Sex, Bareback Youth, Download Gay DVDs
Running Time: 100 mins, Year: 2012
Price: Around £25*
Starring: Keny Austin, Jack Cameron, Nicolas Cruz, Damian Driek, Nick Gill, Ennio Guardi, Ali Montero, Andy Nash, Mike Nio, Marco Will
Director: Vlado Iresch
Studio: Bare Films
Buy DVDs online at: Homoactive, Simply-Adult.com and Radvideo (USA)
Download Bare Film titles at: Homoactive (UK/EU) and Radvideo (USA)
Downloads & Online Streaming: Bare Films (Staxus), See also: www.gaydvds.tv
Country: Czech Republic, Language: Czech, with English subtitles
Additional info: No Regional Coding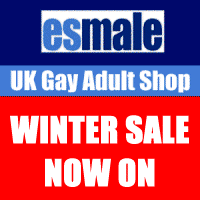 Esmale (UK Gay Adult Shop) sells a large range of gay adult sex toys including a range of fetish and restraint products, Cock and Ball play items, Whips, Paddles and Slappers, Blindfolds, Masks and Hood and are the UK stockist of Mr B leather and fetish products. They also sell a large range of men's designer underwear, condoms and lube, fleshjacks, jock straps and anal toys. Treat yourself!
Save an extra 10% on top of their already discounted prices with our exclusive code 'GAY10'. Click here to shop
See also: www.gayadultshops.co.uk